Our faculty members participate in conferences around the world, conduct groundbreaking research, and publish books and journal papers that contribute to their field and highlight their expertise. We feature those accomplishments and more in this section.
College of Arts and Humanities
Gilah Yelin Hirsch, professor of art, will be included in two upcoming exhibitions. "Himalayan Flight Series, Palimpsest 1" and "Dorado" are two of a series of four experimental pieces she created at the invitation of and in collaboration with Solo Impression, Inc. in New York City. The work will be featured in the "Art on Paper Fair" exhibit opening March 7. Her piece "Infinitely Connected" will be shown in "Love Thy Neighbor as Thyself" exhibition at the Pacific Union Project, open from April 7th to June 1.
Hirsch will also have a public screening of her film "Reading the Landscape" hosted at the Edgemar Center for the Arts on March 10 in Santa Monica, Ca., and at CSUDH in the Loker Student Union Grand Ballroom on March 14, both take place from 3 to 5 p.m. "Reading the Landscape" combines science and art in a magical voyage around the world following the migratory patterns of humankind. Both events are free of charge. To RSVP send an to studio.RTL@gilah.com.
College of Health, Human Services and Nursing
Payman Nasr, assistant professor of clinical laboratory studies, has co-authored the research article "Genotypic and phenotypic variations in methicillin-resistant Staphylococcus aureus (MRSA) isolates from outpatient, inpatient, and nursing homes," which was published in the Jan. 22 issue of the Journal of Medical Microbiology. Two of the co-authors were CSUDH clinical sciences students Duyen Dang and Alexander Garcia. Their report contributes to the existing understanding of evolutionary epidemiology of antibiotic resistance in MRSA.
Recent quotes and/or interviews in the media from faculty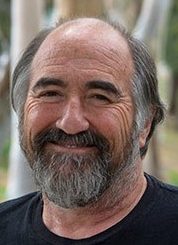 "Just like with societal issues such as smoking or drugs, I feel we're going to have to observe some strong, real consequences before we're able to question our own behaviors," –Larry Rosen, emeritus professor of psychology, was quoted in Healthline.com's article "How Digital Hoarding May Be Damaging Your Mental Health."
"Nancy Cheever, professor of communications at California State University, Dominguez Hills, researches how cellphone use affects our moods, and says that being 'constantly connected' through email, text and social media guarantees that you'll experience anxiety." –Cheever's research was noted in the Jewish Journal story "The Anguish of Non-Stop Family Texts" on Feb. 12.